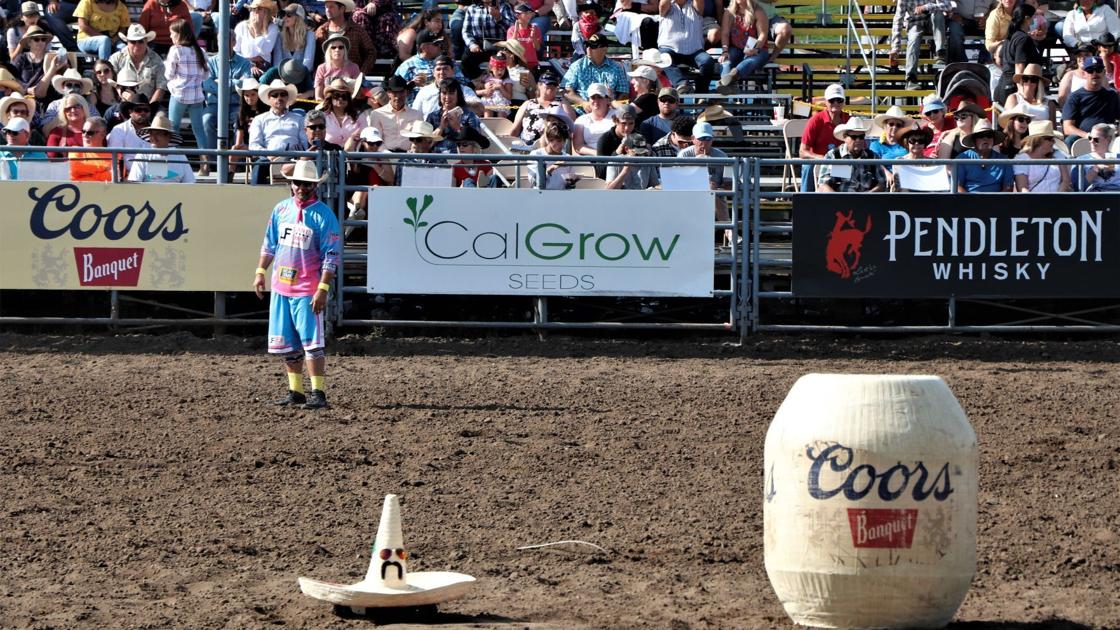 Elks Rodeo's bullfighter Juan Carlos is living the dream | Local news
Table of Contents Photos: Sunday at the Santa Maria Elks Rodeo090521-smt-news-elks-rodeo-001.jpg090521-smt-news-elks-rodeo-002.jpg090521-smt-news-elks-rodeo-003.jpgThousands of people attended the
Born at the Flying U Rodeo Ranch in Marysville, Juan Carlos always dreamed of joining the legendary Cotton Rosser and his family on the professional rodeo circuit.
On Sunday, he was in the center of the Elks Unocal Event Center arena with an adoring crowd cheering his every move as a bullfighter at the 78th annual Santa Maria Elks Rodeo — the first and most famous bull fighting sombrero. A dream come true.
"No, that's not it — I found him in Las Vegas," said Flying U Rodeo General Manager and CEO Reno Rosser during Sunday's final performance of the four-day Elks Rodeo.
Wait, what?
"He's a car, a four-wheeler, a radio-controlled Traxxis four-wheeler with a lot of modifications. He can ride through any arena in any kind of dirt," said Rosser. "You know he's not a real person."
Alright, so how did the legend that is Juan Carlos really begin?
"I was thinking that we needed something to help out during the bull riding," said Rosser. "It takes time for the bull riders to get settled in, to get their rigging just right before each ride. I wanted to figure out something to entertain the crowd during that time.
"So, I was in a hobby shop in Las Vegas back in 2012, just looking around and I saw this Traxxis four-wheeler and it gave me an idea."
And the legend that was to become Juan Carlos was born.
"I don't know that he's a legend but the crowds do love him," said Rosser.
Just having an RC car driving through the arena wasn't really enough.
"I thought I could put a hat on him and I ended up putting him in a Zapata," said Rosser. "That's a traditional Mexican Sombrero. It's the only hat big enough to cover a Traxxis.
"But he needed something else so I added a big, droopy mustache and sunglasses and that gave him a personality. He looked like his name should be Juan Carlos and that's how it all began."
The Rosser's Flying U Rodeo provides the rough stock — the bucking broncos and bulls along with the sheep for mutton bustin' — at rodeos throughout the West.
Juan Carlos (he's always Juan Carlos — never just Juan) is a regular part of the bull fighting team, scooting around the arena, with Rosser out of sight at the controls, chasing the bulls and driving the barrelmen crazy.
"The bulls aren't afraid of him although the horses really aren't fans. Ninety-nine out of 100 horses hate him," said Rosser. "The bulls stomp on him all the time but that's the thing about a Traxxis – they are durable. Nine out of 10 times, if he gets stomped on, he can just scoot away. The crowd loves it. If he does get damaged, you can repair him and send him right back out. There are actually four Juan Carlos cars and I have three here just in case.
"And I have a Juan Carlos doctor at a hobby shop in Yuba City. I take all of them to the doc every Monday."
For the last several years, Juan Carlos has joined the Flying U Flying Cowboys and their daredevil motorcycle act.
"The crowd loves it when Juan Carlos does a backflip over the motorcycle ramp," said Rosser.
The bull fighting sombrero even has his own cult following.
"Juan Carlos has his own Facebook page," said Rosser. "There's a whole Juan Carlos Fans Team. Kids love him, adults love him. People are drawn to him — he is just so weird — and they even make their own Juan Carlos hats. They post pictures of themselves in Juan Carlos sombreros.
"It's all part of the show. We have about 400 bulls, including NFR qualifiers and world champions, but Juan Carlos is the star."
Photos: Sunday at the Santa Maria Elks Rodeo
090521-smt-news-elks-rodeo-001.jpg
Updated


090521-smt-news-elks-rodeo-002.jpg
Updated


090521-smt-news-elks-rodeo-003.jpg
Updated


Thousands of people attended the last day of the Santa Maria Elks Rodeo Sunday.
Updated


Thousands of people await the start of the last day of the Santa Maria Elks Rodeo Sunday.
Updated


100 year old veteran Dan Daniels of Orcutt, sings the national anthem on the last day of the Elks Rodeo Sunday.
Updated


090521-smt-news-elks-rodeo-007.jpg
Updated


090521-smt-news-elks-rodeo-008.jpg
Updated


090521-smt-news-elks-rodeo-009.jpg
Updated