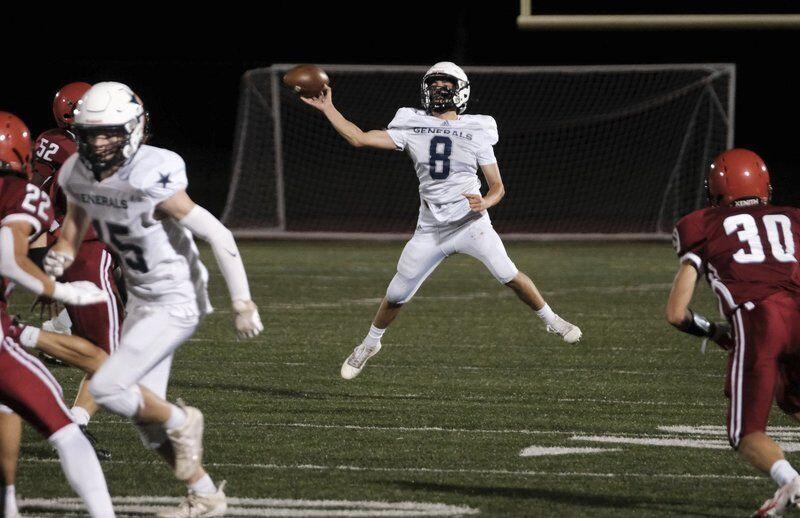 Hamilton-Wenham football grinds down host Gloucester in season opening win | Sports
GLOUCESTER — Friday's season opening non-league tilt between Gloucester and Hamilton-Wenham was a defensive grind. The
GLOUCESTER — Friday's season opening non-league tilt between Gloucester and Hamilton-Wenham was a defensive grind. The two squads traded hits for the duration in a game where points were difficult to come by.
In the end, it was the visiting Generals that turned in the more complete performance by using a ball control offense that chewed up 32 minutes and 46 seconds off the clock, a strong special teams that set up all three scores, and a dominant defense, leading to a 13-7 win at Newell Stadium.
"Defense did a great job tonight," Hamilton-Wenham head coach Jim Pugh said. "Both offenses struggled a little bit (and) penalties hurt both teams, but we were able to take advantage of a couple short fields set up by our special teams. And our defense made stops."
Gloucester struggled on offense for much of the night. While Caleb DeCoste gave the Fishermen early momentum in the form of a 62-yard touchdown run on a fullback trap up the gut for a quick lead, they could not find a rhythm from there. Gloucester finished the night with just four first downs and only 110 yards of total offense.
"We didn't do a good job picking up their blitzes," Gloucester head coach Dan O'Connor said. "Some of that comes with inexperience, some of that comes from good execution from Hamilton-Wenham. We just need more continuity on offense. We need to find plays that work and tonight we didn't do that."
After Gloucester took a 7-0 lead, Hamilton-Wenham immediately snatched momentum thanks to the play of Markus Nordin. The senior switched from quarterback to receiver throughout the game and made plays all over the field.
Nordin's 60-yard kickoff return set up his 10-yard touchdown run later in the drive, the only Generals' touchdown of the game. He led the team with 61 yards on the ground and also picked up 27 yards receiving to go along with the kickoff return.
"He does it in so many ways," Pugh said. "He's such a good player for us and came through tonight. That kickoff return was big after Gloucester scored. He does everything for us."
Hamilton-Wenham took the lead thanks to strong special teams play. Pressure on a Gloucester punt forced a shanked kick that saw the Generals set up shop deep in Gloucester territory. While the Fishermen defense made the stop, kicker Zack Walles kicked a 39-yard field goal to give his team a 10-7 lead at the break.
Walles then added a 24-yard field goal in the fourth quarter to cap the scoring at 13-7.
"He kicked for us two years ago and did well," Pugh said. "We had a soccer player kick for us in the spring, but Zack stepped right back in and nailed a big kick to give us the lead at the half."
Hamilton-Wenham had chances to put the game away, but the Gloucester defense continued to make big stops to keep it close. Frank DeSisto had a nice game on defense while Aidan Cornetta and Cameron Widtfeldt each had an interception. Anthony Russo led the way on the defensive line.
The Generals, however, had a 6-minute drive and a drive just under five minutes to keep the Fishermen offense off the field and eventually wear down the defense.
"They ball controlled us tonight but I couldn't ask for more out of our defense," O'Connor said. "They fought all night, played physical and came up with some key stops. We just need to support them more going forward, on offense and on special teams."
Gloucester made one final stop with under two minutes to play, getting the ball back with 80 yards to go. The Generals defense, however, made one final stop, forcing a turnover on downs to preserve the victory.
Hamilton-Wenham hosts Watertown next Saturday (1 p.m.). Gloucester travels to Malden Catholic on Friday night (7 p.m.).
Hamilton-Wenham 13, Gloucester 7
at Newell Stadium, Gloucester
Hamilton-Wenham (1-0) 7 3 0 3 | 13
Gloucester (0-1) 7 0 0 0 | 7
G-Caleb DeCoste 62 run (Cameron Widtfeldt kick)
H-W-Markus Nordin 10 run (Zachary Walles kick)
H-W-Walles 39 field goal
H-W-Walles 24 field goal
INDIVIDUAL STATS
Rushing- Hamilton-Wenham: Markus Nordin 7-61, Chris Domoracki 15-59, John Ertel 6-24, Luke Domoraki 2-6. Gloucester: Caleb DeCoste 5-66, Aidan Cornetta 2-8, Frank DeSisto 6-3, Nick Carey 3-(-13).
Passing- Hamilton-Wenham: Ertel 5-9-73-0-0, Nordin 1-5-4-0-2. Gloucester: Carey 6-17-73-0-0.
Receiving- Hamilton-Wenham: C. Domoracki 2-30, Nordin 2-27, William Moroney 1-16, Thomas Ring 1-4. Gloucester: Cornetta 1-24, Cameron Widtfeldt 1-24, DeSisto 2-15, Jazayah Sainterling 2-10.
||||